The Competition
Classic Restoracing Championship
Porsche Centre Cardiff & Swindon are excited to announce their participation in the Porsche Classic Restoracing Championship 2019.
Returning after a successful set of races in 2018, Ollie Coles will be driving for Porsche Centre Swindon. New to the track this year and driving for Porsche Centre Cardiff is Scot Adams. Both drivers are excited to compete in the 5 round race series.
Last year, the Porsche Centres were judged on their restoration of the vehicle, including mechanical renovation, body and paint preparation however, this year it's all about performance.
Keep up with their progress by checking back on this page where will be providing updates about each race stage.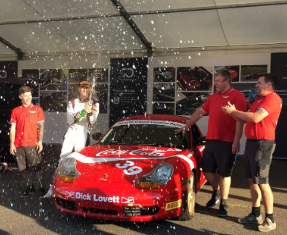 Race 3
Brands Hatch
The Restoracing Championship is in full swing and the third round at Brands Hatch was another action-packed weekend of Boxster racing.
This time Cardiff and Swindon faced the Indy track at Brands Hatch on Sunday 7th July

Race 2
Brands Hatch
The first May Bank Holiday weekend saw the second race of the 2019 Restoracing season.
Our Porsche centres, Swindon and Cardiff arrived at Brands Hatch Friday afternoon fully-prepped and ready for the race ahead.

Race 1
Donington Park
Easter Saturday saw the start of the hotly awaited 2019 Restoracing season. 
The opening round kicked off at the iconic Donington Park which offered its own challenges to both driver and car.

Meet Ollie
Ollie is representing Porsche Centre Swindon, a 25 year old dedicated Porsche technician.
Ollie will be racing behind the wheel of a 986 Boxster for the multi-day event designed in Coca-Cola livery to mimic the car of Dick Lovett's chairman who raced a Porsche in the late seventies. 

Meet Scot
Joining us for his first year of racing is Scot, representing Porsche Centre Cardiff. 
Scot has worked at Porsche Centre Cardiff for nearly 12 years. He hopes the new fully adjustable suspension set up will help Cardiff's chances of gaining first place positions.