Porsche Centre Swindon's Jon strikes gold as official pit crew member
This year marks the 70th anniversary of Porsche and to celebrate this milestone birthday, Porsche Great Britain has painstakingly restored a 1965 Porsche 911 to its former glory.
Powered by a 2.0-litre flat-six engine, the car was originally sold to an Italian customer and made a welcome return to the UK in the late 1990s.
Since then it has been carefully restored and converted into an FIA-approved race car and can be seen at race tracks across Europe during this, Porsche's 70th birthday year.
Here, Porsche Centre Swindon's Jon Rapson explains how he has been hand-picked to play a vital role in these celebrations.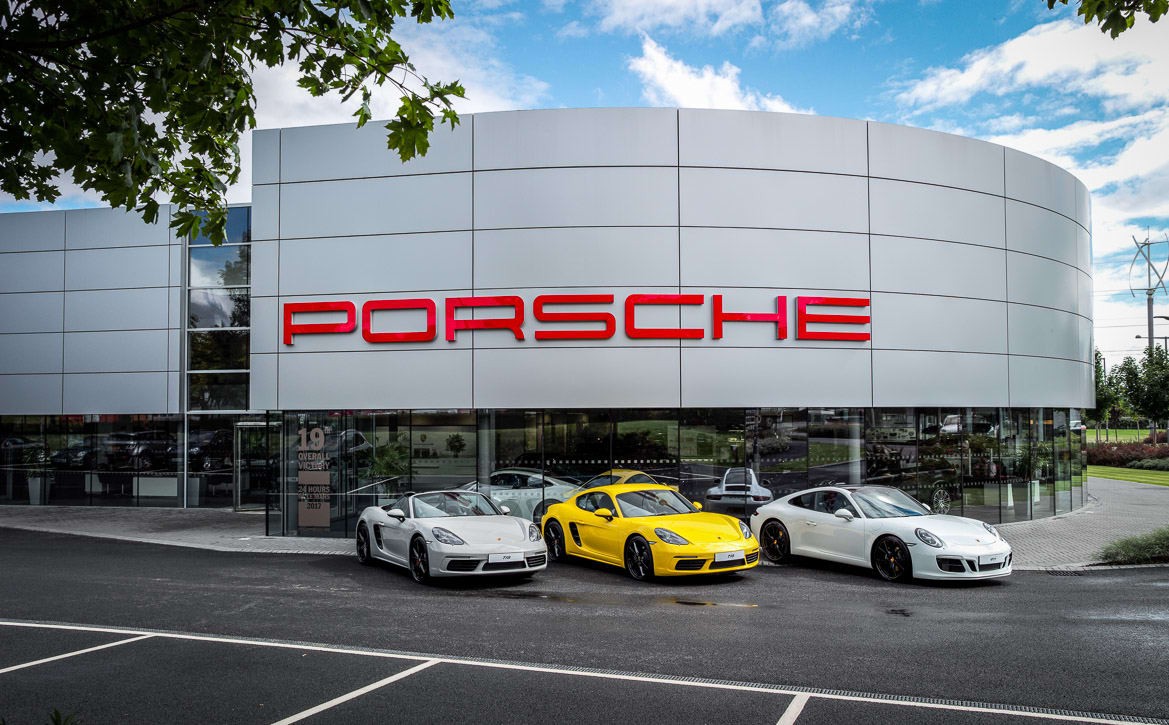 Read Jon's Race Day Blog Below:
It's not every day you leave work at Porsche Centre Swindon and head for a famous race circuit as a key member of a hand-picked Porsche pit crew!
But that's exactly what happened to me. I'm Jon Rapson and I work as a Gold Technician at Porsche Centre Swindon and I found myself living every sports car enthusiasts' dream when I was asked to join a team of five technicians to support an official Classic Porsche team at Donington Park.
Supporting Legendary Porsche Drivers
Kitted out with official Porsche pit crew attire, it was an absolute honour to support legendary drivers Anthony Reid and Richard Attwood. It was even more exhilarating to watch them win their class in the opening race of the tenth anniversary of the prestigious HSCC (Historic Sports Car Club) Guards Trophy Race.
Both have an impressive racing pedigree - Anthony has competed at Le Mans in British Touring Cars plus a whole lot more, while Richard is from the Golden Age of F1. Now aged 78 he has raced alongside legends Graham Hill, Jackie Stewart and John Surtees. He still regularly races today - and wins!
History of this Classic Porsche 911
The duo were behind the wheel of a 1965 Porsche 911 2.0 which has been lovingly restored by Porsche Retail Group, with support from Porsche Road and Race, to mark the 70th anniversary of Porsche.
The car had previously been in storage and used as a display model before it was resurrected and restored to race specification. This included a full engine overhaul as the block was scored and completely seized when the project started.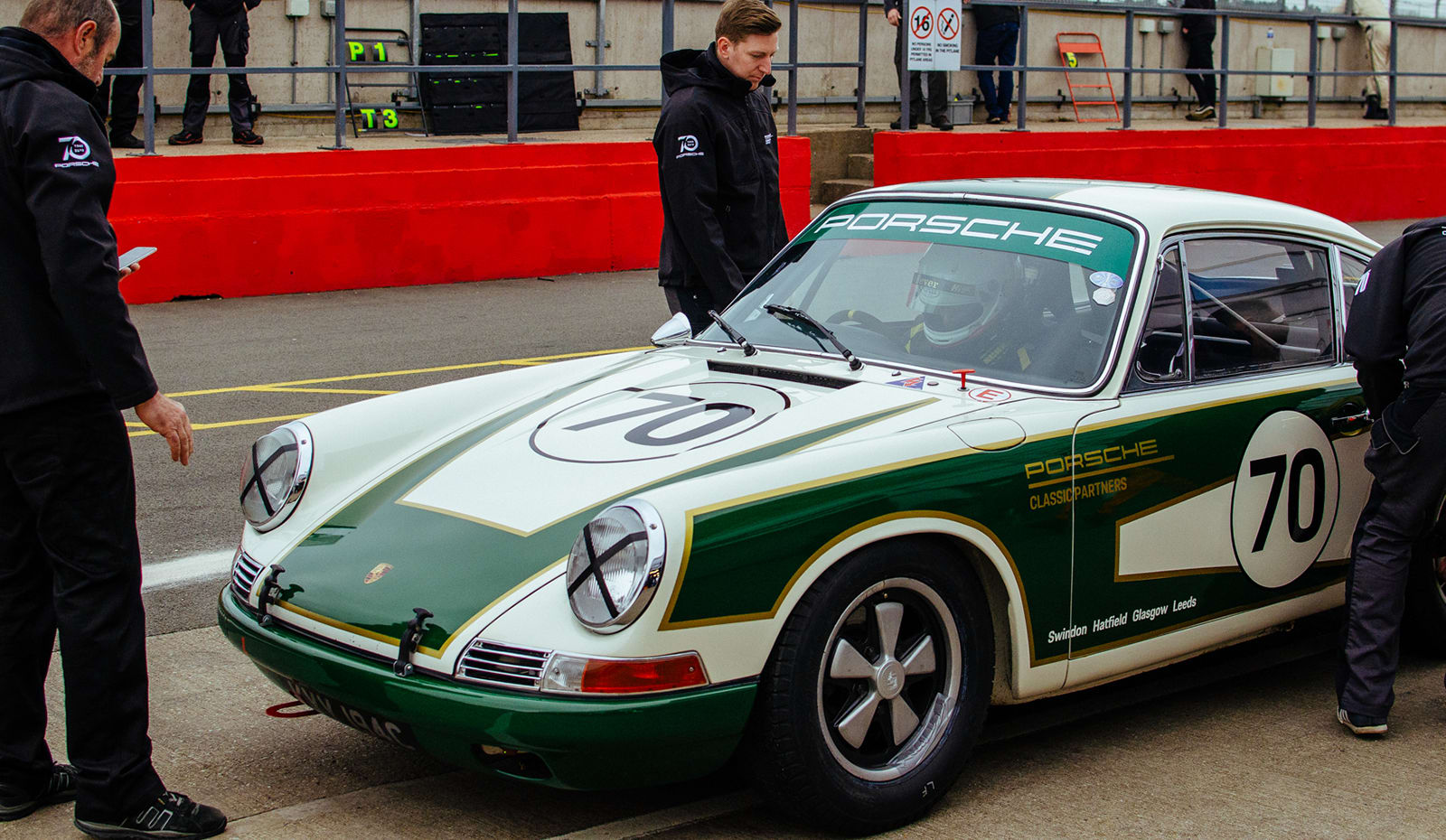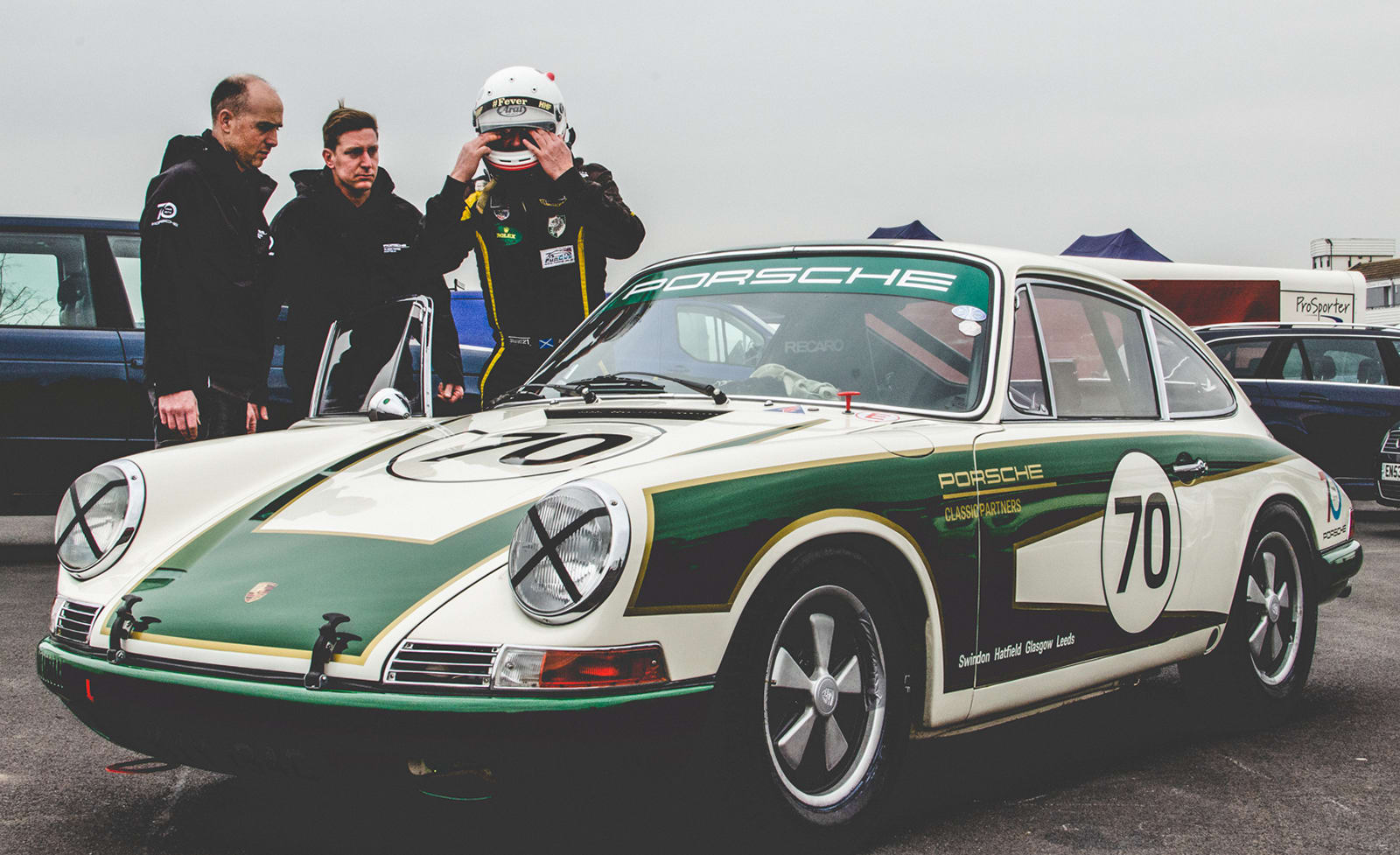 This iconic 911 will be raced throughout the 2018 season in the UK and Europe to mark Porsche's 70th anniversary - 11 special classic races between now and the last race at Silverstone in October. A guest driver will be at the wheel for each event.
Immediately called into action
But despite our amazing win, things didn't go smoothly. We were just three laps in to qualifying when Anthony was forced to limp the 911 back to the pit lane, barely firing on four cylinders.
Qualifying was supposed to last a full 30 minutes, including a driver change so average lap times could be calculated for both drivers.
Immediate diagnosis from Jon Bradshaw of Porsche Road and Race was that at least one rocker arm had snapped. This had resulted in the affected cylinder being starved of fresh air, and unable to expel exhaust gasses.
A quick turnaround...
It was devastating to watch the 911 being pushed back to base camp but undeterred we decided on our plan of attack. Two technicians would work on the inlet side of the engine, removing cam covers, while others would work underneath the vehicle in order to remove the exhaust and the exhaust cam covers.
Inlet cam covers removed; no issues found. Exhaust cam covers removed - one snapped rocker arm on cylinder 6 and bent rocker adjustment screw on cylinder 1. All this diagnosed less than half an hour after qualifying had started and the 911 had been forced to return to base.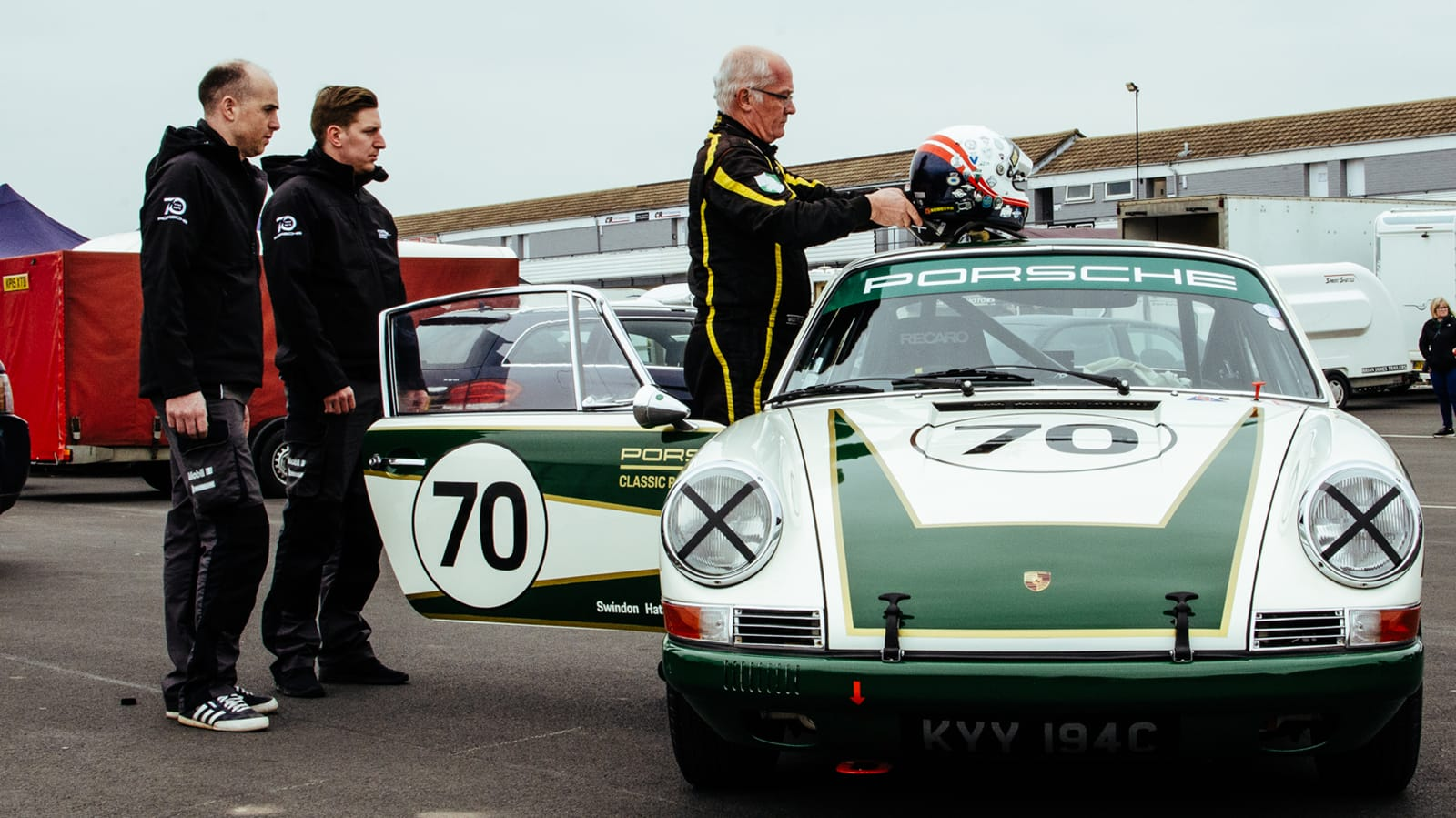 Fate was certainly shining on us as, though, as after various calls to contacts throughout the Classic Porsche world, we found a semi-local specialist that had two rocker arms in stock!
A quick and unplanned outing in a Porsche Cayenne to collect the parts and we soon had the engine prepped and ready for the replacement rocker arms. We also checked tappet clearance on all cylinders.
"Running like a dream"
An hour later, the spares were with us and some four hours after limping off the track the classic 911 was tested, purring and running like a dream.
Fuel re-calculated, tyre pressures set and various routines practised, including driver changes. Qualifying had started at 11.35am. The 911 was back on the grid for 4.16pm with minutes to spare ahead of the green light and race start at 4.25pm.
It was an incredible team effort and a great example of the skills within the Porsche technician team.
Our 911 joined a line-up grid of around 40 pre '66 GT cars and pre '69 sports-racing cars. Among the ranks were AC Cobras, TVR Griffiths and Lotus 23s.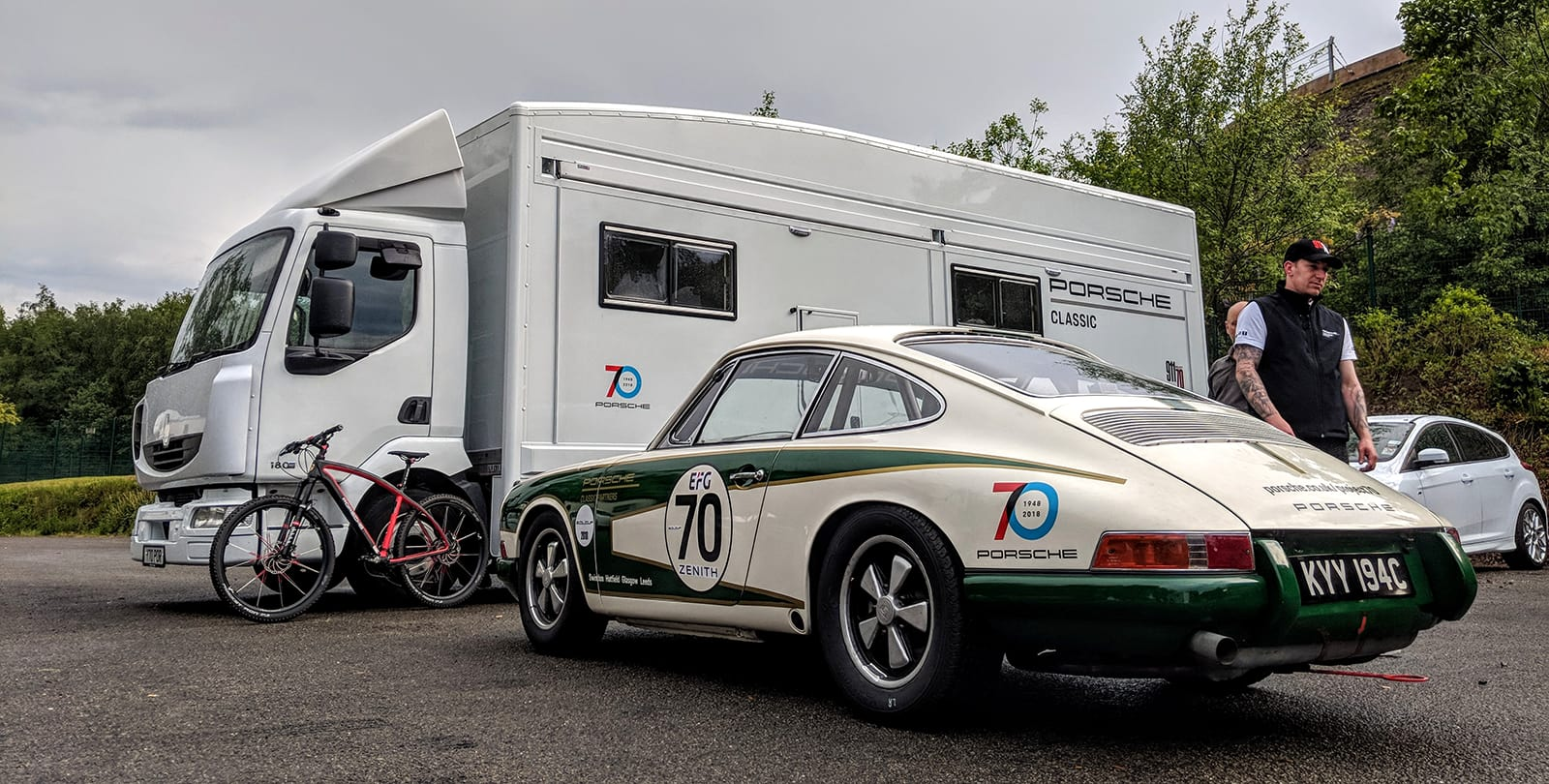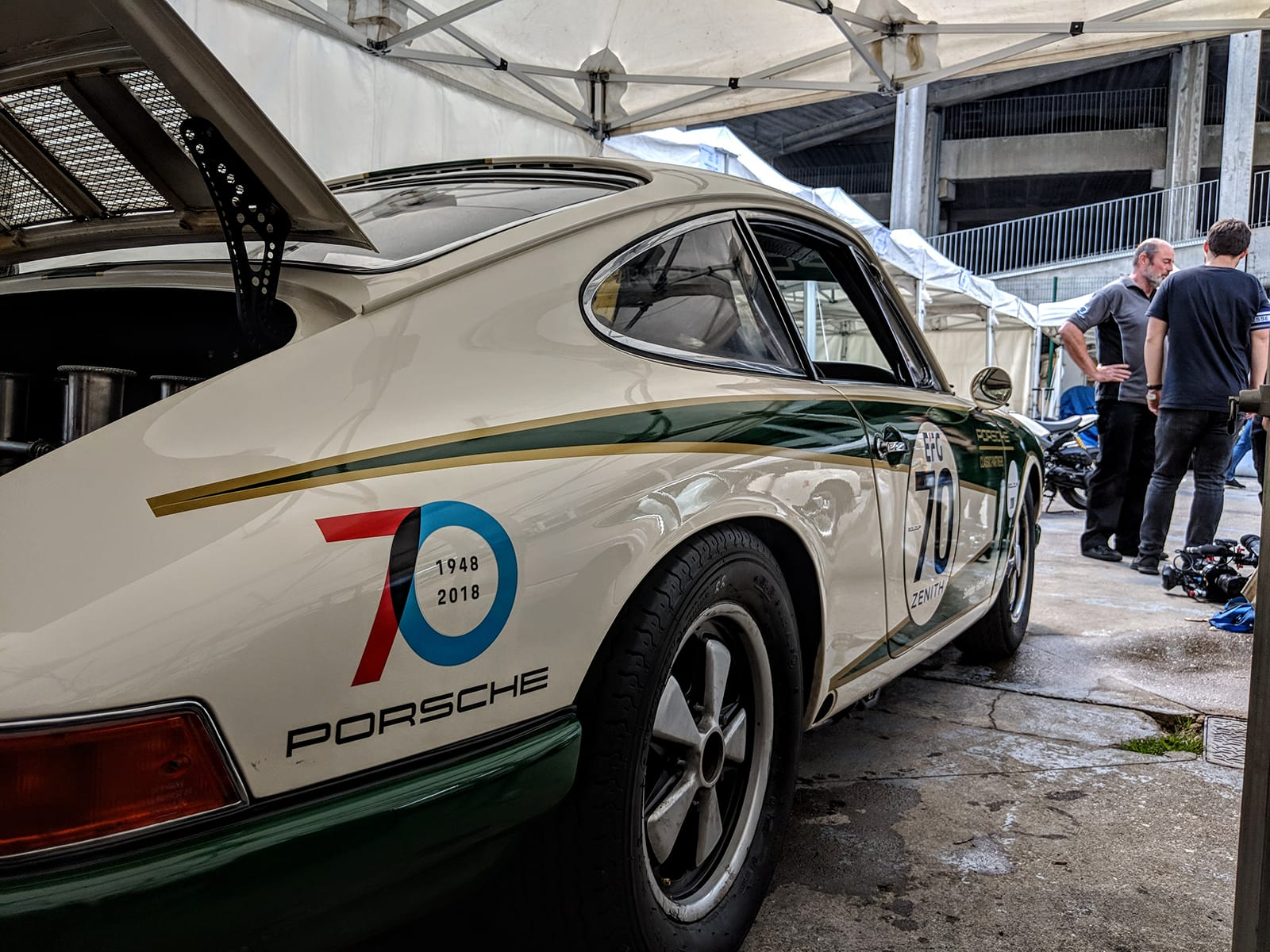 "She was perfect."
It was nerve-wracking watching from the pit as the 911 shaved seconds off the time with each passing lap. It would be wrong to celebrate, but a rival's oil pipe failure - which also drenched the track in oil - left the lead open for our 1965 Porsche 911.
Some 25 minutes into the race Anthony jumped out and Richard took over as part of the mandatory driver change. We again checked the tyre pressure and condition, cleaned the screen of residual oil and gave the car a thorough once-over. She was perfect.
Anthony was back in the driver's seat to finish the second half of race and was triumphant, coming first in class. It was the perfect end to an incredible day with an amazing team and a stunning car.
A packed race season awaits
Our 1965 Porsche 911 will be taking part in a whole series of races over the coming months - including the iconic Nurburgring for the Old Timers Grand Prix on August 10-12.
We've already been to Belgium at the Circuit de Spa-Francorchamps for the Peter Auto 2.0l Cup. We fitted a new, shorter ratio gearbox especially for the track and overcame an oil pipe challenge during qualifying.
Unfortunately, it wasn't our day and a broken rocker arm ended our race well before the weather closed in and the entire event was red flagged.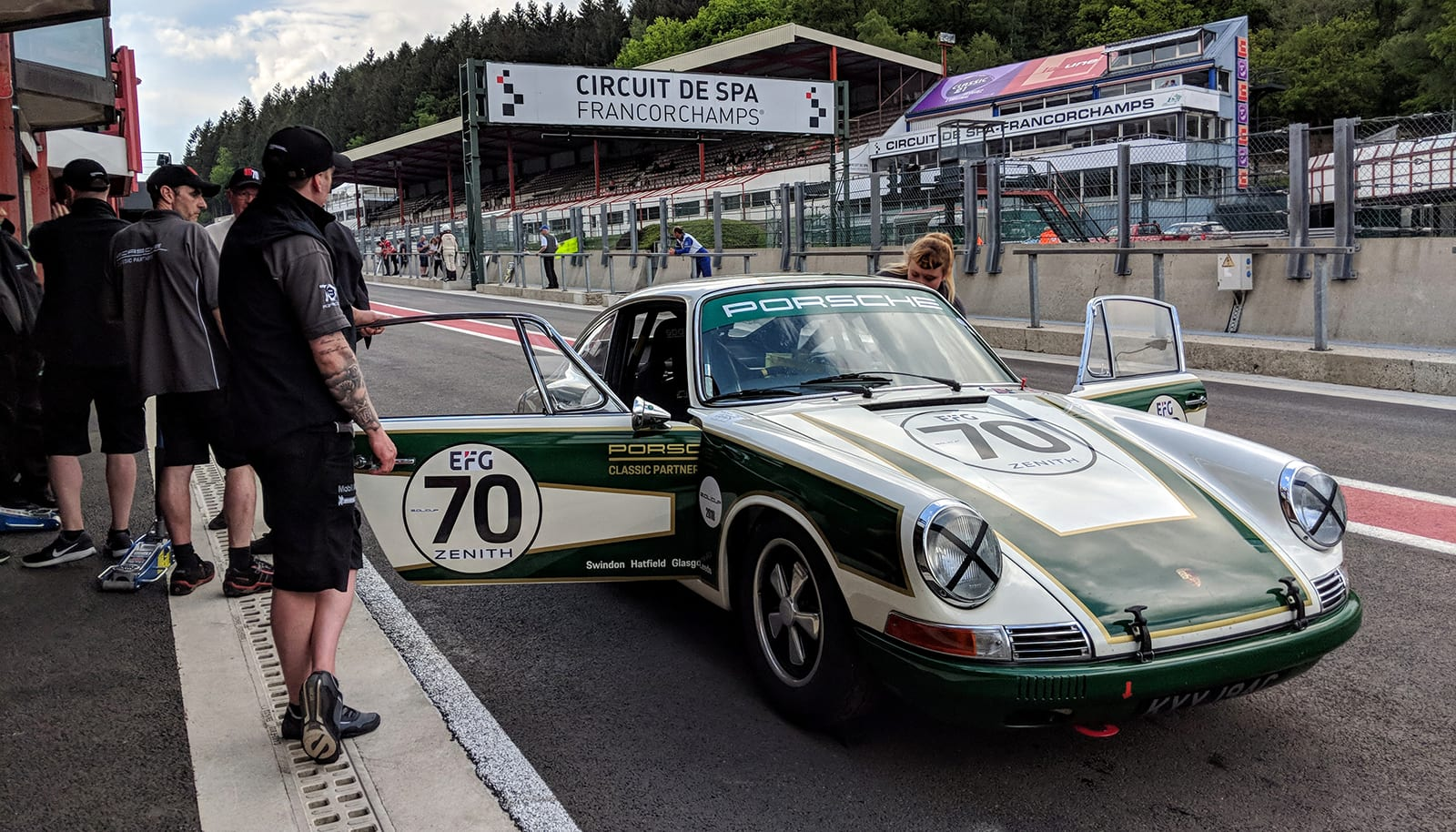 Thanks to Jon for his commentary throughout the day!
Other forthcoming dates for the diary include:
17 June - Silverstone, UK, HSCC Guards Trophy
6 - 8 July - Circuit de la Sarthe, France, Le Mans Classic
20 - 22 July- Silverstone, UK, Silverstone Classic
10 - 12 August , Nurburgring, Germany, Old Timers Grand Prix
25 - 26 August - Oulton Park Gold Cup, UK, HSCC Guards Trophy
1 - 2 September, Brands Hatch, UK, Festival of Porsche
14 - 16 September - Circuit de Spa-Francorchamps, Belgium, Spa 6 Hours
21 October - Silverstone, UK, HSCC Guards Trophy