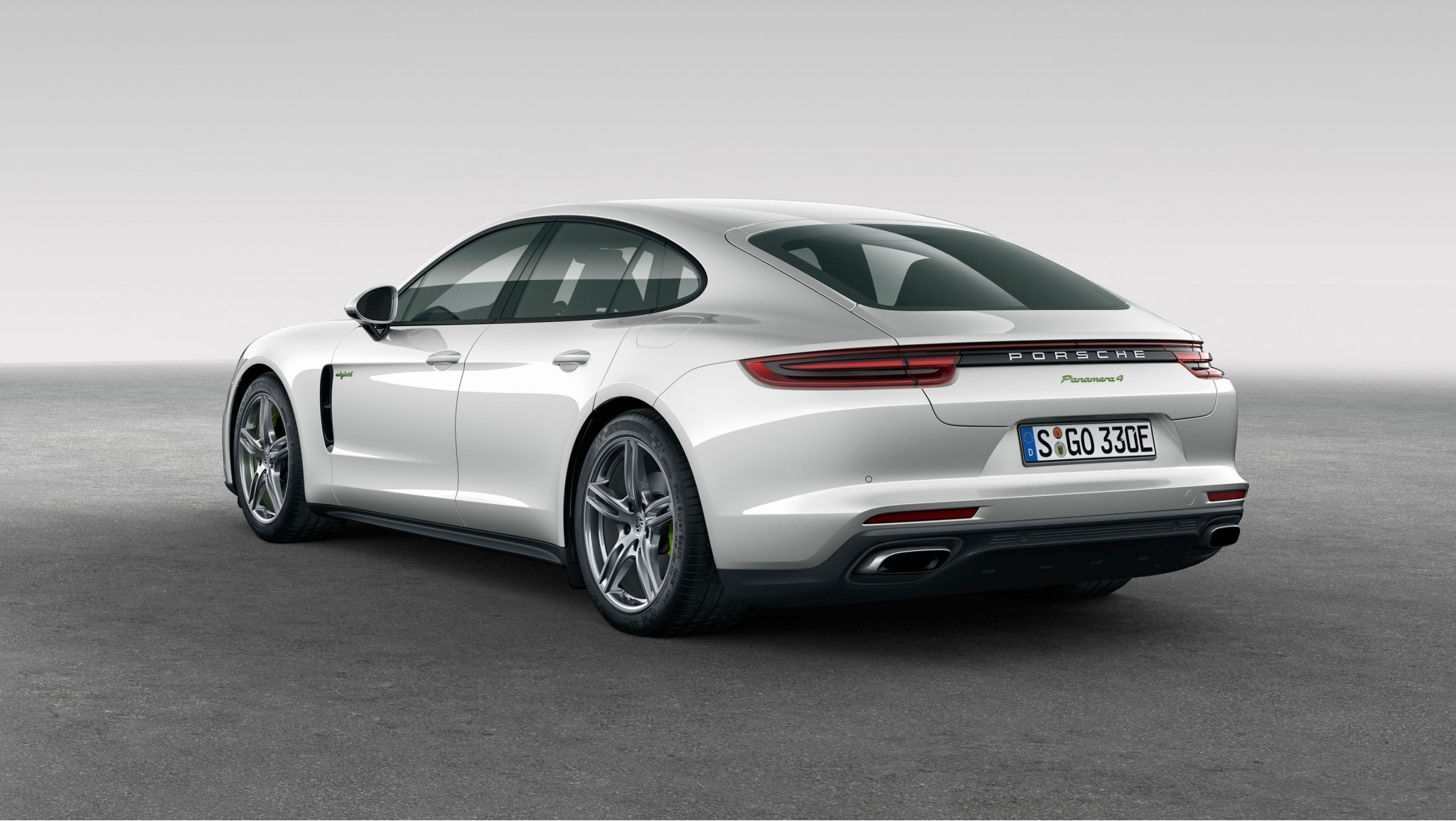 The vehicle generates some 340 kW (462 hp; combined fuel consumption 2.5 l/100 km; CO2 emissions 56 g/km; energy consumption 15.9 kWh/100 km) of system power and delivers fuel consumption figures of 2.5 l/100 km in the New European Driving Cycle (NEDC) for plug-in hybrid models. That corresponds to CO2 emissions of 56 g/km. At Porsche, the term "hybrid" is synonymous with not only sustainable mobility, but performance too – a fact proven not least by the victory of the 919 Hybrid in the 24 Hours of Le Mans race in 2015 and 2016. This philosophy is now also defining the Panamera 4 E-Hybrid.
The new Porsche plug-in hybrid always starts in purely electric mode and drives without generating any local emissions within a range of 50 kilometres and a maximum speed of 140 km/h. And yet this Panamera too is a sports car among the luxury saloons: The all-wheel Porsche achieves a top speed of 278 km/h and delivers a system torque of 700 Nm from stationary without hesitation. The four-door hybrid sports car breaks the 100 km/h barrier in just 4.6 seconds. The torque is transferred to all four wheels and the standard three-chamber air suspension ensures an optimum balance between comfort and dynamism at all times.
One highlight of the second-generation Panamera is the newly designed display and control concept in the form of the standard Porsche Advanced Cockpit with touch-sensitive panels and individually configurable displays. Two seven-inch screens either side of the analogue rev counter form the interactive cockpit, and, in contrast to the other versions in the model line, the Panamera 4 E-Hybrid features a power meter tailored to hybrid operation. The intuitive operating principle of the hybrid-specific displays is similar to that used in the Porsche 918 Spyder super sportscar. The power meter provides data such as the amount of electrical energy currently being used as well as that recovered through recuperation.
A 12.3-inch touchscreen functions as a central PCM control and display unit. The driver can access various items of hybrid-specific information both here on the dash and in the instrument cluster. The boost assistant and hybrid assistant are both practical and informative. The boost assistant display shows the energy available for boosting, while the hybrid assistant provides various visual signals for regulating the electrical drive power.
Call one of our Porsche Centres today for more information on the Panamera, Porsche's perfect solution for those seeking power, refinement and practicality in equal measure.
Tewkesbury: 01684 212 911