Approved Used Porsche - Every inch a Porsche except the price
Buying an Approved Used Porsche can be a great way to afford the car of your dreams without compromising on quality. In fact, Porsche owners love and look after their cars so well that you can often find one with very low mileage that feels like new.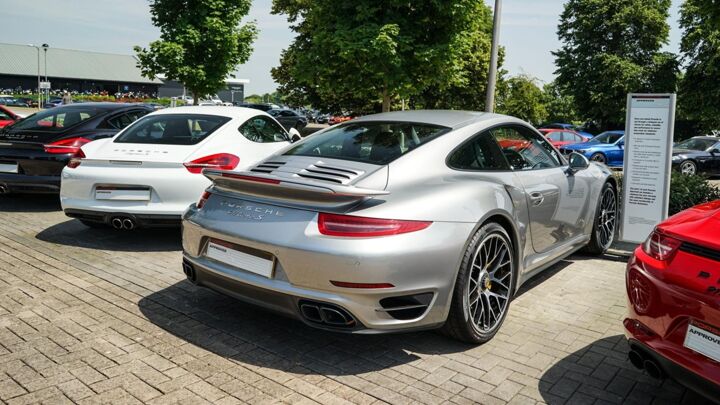 Why Dick Lovett is first choice for Approved Used Porsche
Whether you've always longed for a Porsche, or you're thinking of replacing your current car with a very much pre-loved model, Dick Lovett Porsche Centres have the finest range of used Porsche cars in stock across the west country and Wales. What's more, as an Approved Used Porsche dealership, we can offer you:
A two-year Porsche Approved Warranty (which you can extend up to the car's 15th year)
Two years of European Roadside Assistance
12 months' MOT
Nationwide delivery
Minimum 3mm tyre depths
The support of a well-established, experienced dealership
Finance through Porsche Financial Services if you need it
Your Dick Lovett Porsche will have had a rigorous 111-point check to ensure it meets the manufacturer's standards, followed by an independent inspection by the RAC.
Join the Club
Once you've taken possession of your car, you can become part of the Porsche community by signing up to Porsche Club GB.
Take part in exclusive events and owners' forums, and enjoy special discounts. You can find out more about member benefits here.
Feeling tempted? Check through the details below to find out more about the Porsches currently waiting for you in our Dick Lovett showrooms ...
718 Boxster/Cayman
These mid-engined, two-seater convertible and hardtop models pack a similar thrill to driving a 911, thanks to a turbo-charged flat-four engine.
They offer a more affordable, entry-level way to start your love affair with the Porsche marque. A love affair that will last a lifetime.
We have over 30 Porsche Approved 718's available now at Dick Lovett. You can become a Porsche owner for £43,990 when you become the newest owner of this fantastic 718 Cayman.
911
The hero car of the Porsche brand with a top speed of over 180mph. The four-seater 911's timeless design and iconic silhouette represent passion, pride and inspiration.
Buying from the experts at an official Porsche Centre like Dick Lovett Swindon gives you the reassurance that your used 911 is truly a great choice. You could even find a special edition or some other rare and exciting model that we have welcomed in from its previous owner.
With a price tag north of £80,000 for the latest model, this Approved Used Porsche 911 991 C2S Coupe on sale now at Dick Lovett Porsche Centre in Bristol could be yours to love for just £60,990.
Panamera​
Fancy a Porsche saloon? Consider the sleek, elegant all-wheel-drive Panamera with iconic Porsche sports car touches like the muscular wheel arches.
With an impressive top speed of 162mph, its image, dynamics and efficiency have improved so much over the generation, newer models are imbued with much of the 911's DNA.
A fresh to the forecourt Panamera currently costs £72,890 but you could drive away in this pre-adored Panamera from Dick Lovett Porsche in Swindon for just £63,950.
Macan
The Macan is the family car dreams are made of. This five seater compact SUV combines amazing sports car capabilities and speed with everyday practicality.
It's like a big 911 that can give the whole family the sports car experience – but with extra legroom. Even better, an Approved Used Porsche Macan can be picked up for a very reasonable price, giving you a stylish SUV for even less.
Take this Macan Turbo available at Dick Lovett Porsche in Cardiff for £49,990. A saving of nearly £20,000 on a new Macan Turbo, which starts at £68,530. 
Cayenne
The biggest Porsche in the range, with an engine as impressive as its size.
The fascinating five seater Cayenne shouts power without sacrificing any of the famous Porsche class. It's luxuriously comfortable for both driver and passengers, yet is still a genuine sports car, capable of over 150mph. 
At £57,695 this Porsche Cayenne on sale now at Dick Lovett Porsche Centre Tewkesbury has a fantastic specification for the money, including a Panoramic Roof, Privacy Glass, Seat Heating, BOSE® Surround Sound system and a heated steering wheel. A new Porsche Cayenne costs £57,195 on the road and to add the specification of this Porsche Approved beauty, you'd have to add at least £5,000 to the starting price. 
Find your ideal pre-loved Porsche and join the Porsche family today. Take a look at the Approved Used Porsche models we have in stock to see what's in our showroom, or get in touch for help to find your perfect Porsche match.
For more information, please contact your local Porsche Centre: