René Arnoux will forever be remembered for his famous duel with Gilles Villeneuve in the 1979 French Grand Prix. A stunning fight during which he and the Ferrari driver battled the legendary track at Dijon and entered the Formula 1 history books in the process. René, who also raced with Scuderia Ferrari between 1983 and the first race of the 1985 season, giving the team three wins, recently visited Maranello with a group of French and Swiss enthusiasts.
The visit also gave Ferrari.com the opportunity to ask the Val d'Isère driver a few questions and he chatted about his memories of his time with the Scuderia, most of which had to do his relationship with Enzo Ferrari. He then talked about the factory tour which took in the Formula 1 Clienti division, the Classiche division and the V12 and V8 production lines where he met the production team named in his honour.
Last but not least, aside from talking about the changes in Formula 1, the French champion also confided his favourite Ferrari GTs. One you see in the below photo: the LaFerrari. But in the video interview, he also reveals which model he'd choose for the Cote d'Azur.
To see the full interview please watch the fascinating video below.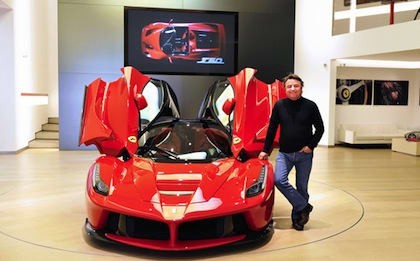 If you would like to find out more about the Ferrari range, please contact Dick Lovett Ferrari in Swindon on 01793 615 000.