The racing inspired MINI JCW range has had several impressive improvements made and is more powerful than ever before. Now the MINI 3-door Hatch, MINI Convertible, MINI Clubman and MINI Countryman John Cooper Works are back with lower emissions, enhanced standard equipment and an extraordinarily powerful engine.
Actually, the MINI John Cooper Works Countryman and Clubman are the most powerful MINIs approved for use on public roads. Ever. 
While MINI through and through,John Cooper Works models sits in a league of their own with their own engine and styling. Powerful and precise, dedicated fans compare driving a MINI JCW to go-karting in the extreme, the sense of connection with the road is so strong.
New MINI JCW Countryman and Clubman
The engine in the MINI Countryman and MINI Clubman John Cooper Works has been completely redesigned to improve response and boost output. So much so that the turbocharged 2.0-litre petrol engine now delivers a staggering 306 bhp (up from 228 bhp on the previous models), with a top speed restricted to 155 mph. 
This upgrade sees the MINI Clubman JCW get from a standing start to 62mph in just 4.9 seconds, while the MINI Countryman JCW takes a mere blink longer at 5.1 seconds. That's around 1.5 seconds quicker than the previous models.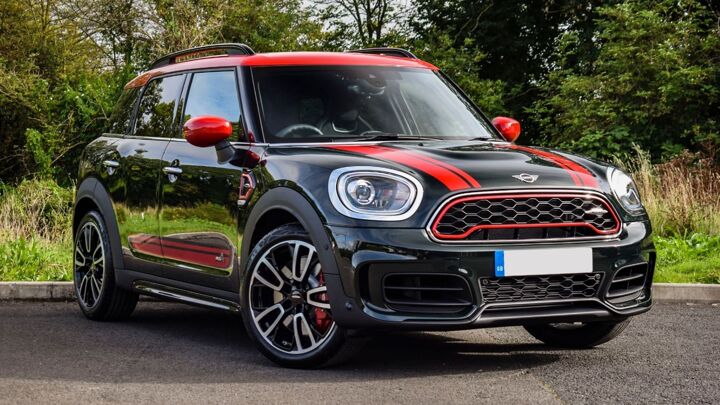 MINI Countryman John Cooper Works
MINI Clubman John Cooper Works
The new, louder sports exhaust keeps your inner racing driver happy while new exhaust filtration technology ensures these MINI JCWs greener than ever before.
There's nothing standard about MINI JCW
There are numerous 'standard' features and equipment in both the MINI JCW Clubman and Countryman, but there's very little that's standard about it:
The eight-speed automatic gearbox is more efficient allowing the engine to pull lower revs in higher gears
A new mechanical differential lock on the front axle keeps the power in check
ALL4 four-wheel drive and the stability control system give powerful forward thrust and more surface grip in challenging weather conditions
The model-specific engineered chassis and body structure reinforcements have improved the already impressive suspension
The John Cooper Works aerodynamic kit, larger air intakes, aero-optimised roof spoilers and mirror caps enhance the racing sensation and track-worthy good looks
The 6 door MINI Clubman John Cooper Works is unique in style and a lot of fun to drive. It's standout design, race-inspired performance and estate-car versatility make it the go-to choice for JCW fans who also need practicality. 
The MINI Countryman John Cooper Works 306hp is the ultimate Sport Activity Vehicle, Exceptionally capable on and off-road, it's the ideal choice for the more active and adventurous JCW fans who don't intend to conform.
New MINI JCW Convertible and 3-door Hatch
The MINI Convertible and 3-door Hatch are the only slightly more sensible members of the new MINI JCW team. Producing 231bhp, the hatchback is capable of 0-62mph in 6.3 seconds, with the 0.3sec convertible just 0.3 seconds behind. 
A six-speed manual gearbox is fitted as standard. In the hatch, this produces 158-157g/km of CO2, while the convertible produces 162-161g/km. There is also the option of an eight-speed automatic gearbox which brings emission levels down by around 17g/km.
Like their 'hotter' siblings, both come with Sport Suspension as standard for maximum traction and the John Cooper Works aerodynamic kit. What's more, they also have the adrenaline-pumping John Cooper Works sport exhaust. Music to any racing fans ears. Especially in MINI JCW Convertible with the top down.
Test drive the ultimate performance MINI today
Powerful and competitive, you have to experience a MINI John Cooper Works to appreciate just how impressive its performance really is. Book a test drive at Dick Lovett MINI in Bristol, Bath, Hungerford and Swindon today.
For more information, please contact your local Dick Lovett MINI Centre: