New BMW i8 Roadster For Sale


BMW Electric & PHEV finance deals
BMW i8 Roadster - i Remote App
Download the BMW i Remote app on your smartphone to stay connected to your vehicle and make the most of owning an innovative BMW i car.
The app allows you to remotely communicate with your car - you can check how a charge is getting on, what range is left in the battery or even pre-set the climate control temperature for when you return to your car. You can even set a departure time to ensure your car is charged before your next journey.

BMW i8 Roadster - Fully Electrical Drive Component
Range of Home-Charging Options
The BMW eDrive is the fully electrical drive component of BMW i8 Roadster. It comprises of an electric motor, a lithium-ion high performance battery and intelligent energy management.
All vehicles with BMW eDrive technology rely on a high-tech lithium-ion battery. It's partnered with a cooling system that keeps it at its optimum operating temperature, increasing its output and service life. Recharging is possible wherever electricity is available; from a 230-volt household socket to dedicated electric car charging points.

The BMW i8 Roadster Range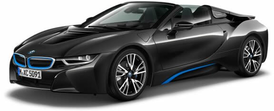 i8 Roadster 2019
20" light alloy BMW i W-spoke style 470 wheels
Retractable soft-top roof
Two seat configuration
WiFi Hotspot preparation
i8 logo projection with open doors

BMW i8 Roadster
From: £127,105.00