Aston Martin return to racing!
After 61 years Aston Martin Lagonda has finally returned to the world of racing with their brand new Formula One team Aston Martin Cognizant. A monumental moment for the brand leaving owners and fans alike, extremely excited for the racing season ahead of us!
And this year, not only will you find AMR21 on some of the biggest racing circuits in the world but you will also see the Aston Martin Vantage and DBX make an appearance on track. For the first time in history they will become the official Safety Car and official Medical Car of Formula One.
The Aston Martin Vantage F1 Edition
For those of you who want to make the racetrack your everyday drive, Aston Martin has gone one step further launching the impeccable Aston Martin Vantage F1 Edition. This new edition is the fastest and most track focused Vantage Aston have ever produced. A direct result of the engineering that went into the F1 Safety Car, Chief Executive Officer, Tobias Moers states "Performance is at the heart of every Aston Martin, but when it wears an F1 badge it has to be a truly exceptional car."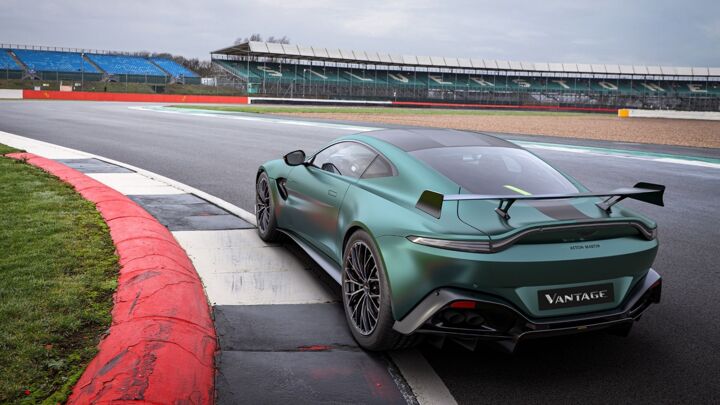 Under the bonnet you will find the same 4.0-litre V8 twin turbo engine, but power has been increased from 503bhp to 528bhp to give a refined but maximised performance. Alongside this surge of power, the Vantage F1 Edition has also undergone gearbox calibration to emphasise track performance meaning gear changes are faster and more direct, giving a precise feel as you change through the gears. 
Significant chassis and aerodynamic improvements allow for better handling and body control. As well as upgrades to suspension and steering. More notability you will see the Vantage features a new Aero Kit, perfecting the overall balance of the car and massively increasing an extra 200kg of downforce to the top speed. For the first time the brand have also increased this sports car's wheels now featuring 21inch alloys, housed by Pirelli Low-Profile tyres.
The Aston Martin Racing Green colour pallet mimics that of the F1 Safety Car, though you can also choose from Jet Black and Lunar White in either a satin or gloss finish. Available in both body styles, you can choose from either the Vantage coupé or roadster. The Coupé starts from £142,000 and customer deliveries begin in May 2021. 
If the Vantage F1 Edition is of interest to you then speak to our friendly sales team today who will be more than happy to talk through all the fantastic features this special edition Aston Martin has to offer.